Donate to Support Our Mission
You can support us by check or money order by sending it directly to the headquarters of the NGO at the following address:
Frontline Messenger , 7 impasse Vot pré, 88490 Combrimont, France
You can support us by
PayPal
. To access the payment platform just click on this link below.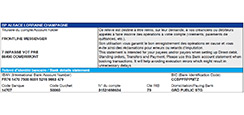 You can support us by Bank Transfer or Money Order addressed to the headquarters of the NGO with the RIB which you can consult or download via the link below.
If you wish to support us by this type of donation, you can inform us by email at the following address:
contact@frontlinemessenger.com
or by phone:
+33 (0) 7.68.28.70.18
Donating using your favorite Credit Card is safe. Enter the amount and click on the following Pay By Card button.